"This dude is made of very hard materials! Let this dude take all enemy attacks as a tank. He will make your offence much easier"
---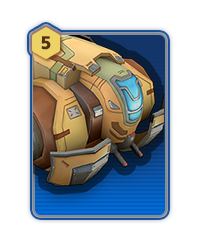 The Air Guardian is a battleship-type aircraft with a high HP. It taunts attacks from the enemy defense buildings and attacks against them. From its deployment spot, it infiltrates into an enemy territory and attacks buildings with equipped machine guns.
As it taunts enemy attacks, it allows rocket missiles and fighters to safely attack against enemy defense buildings.
| Battle Point | Cooldown Time | Parts |
| --- | --- | --- |
| 5 | 25sec. | Rare Engine |
Level
Health

Damage

Speed

Attack

Range

Attack Speed

1
2500
20
5
2
2
1.1
2550
21
5
2
2
1.2
2600
22
5
2
2
2
2950
26
5
2
2
2.1
3000
27
5
2
2
2.2
3050
28
5
2
2
2.3
3100
29
5
2
2
3
3450
33
5
2
2
3.1
3500
34
5
2
2
3.2
3550
35
5
2
2
3.3
3600
36
5
2
2
4
3950
40
5
2
2
4.1
4000
41
5
2
2
4.2
4050
42
5
2
2
4.3
4100
43
5
2
2
5
4450
47
5
2
2
5.1
4500
48
5
2
2
5.2
4550
49
5
2
2
5.3
4600
50
5
2
2
5.4
4650
51
5
2
2
6
5150
58
5
2
2
6.1
5200
59
5
2
2
6.2
5250
60
5
2
2
6.3
5300
61
5
2
2
6.4
5350
62
5
2
2
7
5850
69
5
2
2
7.1
5900
70
5
2
2
7.2
5950
71
5
2
2
7.3
6000
72
5
2
2
7.4
6050
73
5
2
2
8
6550
80
5
2
2
8.1
6600
81
5
2
2
8.2
6650
82
5
2
2
8.3
6700
83
5
2
2
8.4
6750
84
5
2
2
8.5
6800
85
5
2
2
9
7300
92
5
2
2
9.1
7350
93
5
2
2
9.2
7400
94
5
2
2
9.3
7450
95
5
2
2
9.4
7500
96
5
2
2
9.5
7550
97
5
2
2
10
8200
107
5
2
2
10.1
8250
108
5
2
2
10.2
8300
109
5
2
2
10.3
8350
110
5
2
2
10.4
8400
111
5
2
2
10.5
8450
112
5
2
2
11
9100
122
5
2
2
11.1
9150
123
5
2
2
11.2
9200
124
5
2
2
11.3
9250
125
5
2
2
11.4
9300
126
5
2
2
11.5
9350
127
5
2
2
11.6
9400
128
5
2
2
12
10050
138
5
2
2
12.1
10100
139
5
2
2
12.2
10150
140
5
2
2
12.3
10200
141
5
2
2
12.4
10250
142
5
2
2
12.5
10300
143
5
2
2
12.6
10350
144
5
2
2
13
11000
154
5
2
2
13.1
11050
155
5
2
2
13.2
11100
156
5
2
2
13.3
11150
157
5
2
2
13.4
11200
158
5
2
2
13.5
11250
159
5
2
2
13.6
11300
160
5
2
2
13.7
11350
161
5
2
2