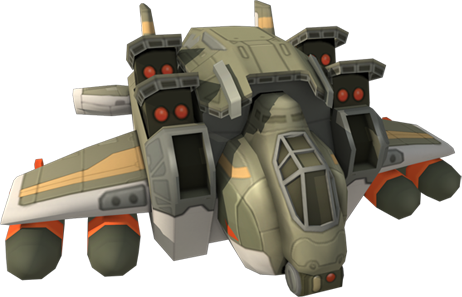 "Boom! Boom! Boom! Successive bomb drops! Feel the heavy blows!"
---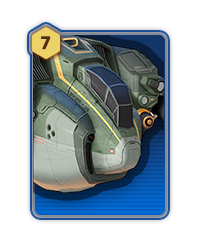 The Bomber is an attack-type aircraft with a high amount of Health. It drops bombs starting from its deployment spot.
Despite its slow speed, it's an efficient reconnaissance unit and an attacker as it withstands attacks from defenses. Its bombs are quite destructive.
The higher the level, the longer the Attack Distance, more the Shots and the faster the Speed.
| Battle Point | Cooldown Time | Parts |
| --- | --- | --- |
| 7 | 18sec. | Rare Engine |
| Level | Health | Damage | Speed | Shots | Attack Distance |
| --- | --- | --- | --- | --- | --- |
| 1 | 850 | 450 | 8 | 4 | 14 |
| 1.1 | 865 | 453 | 8 | 4 | 14 |
| 1.2 | 880 | 456 | 8 | 4 | 14 |
| 1.3 | 895 | 459 | 8 | 4 | 14 |
| 2 | 955 | 479 | 8 | 5 | 16 |
| 2.1 | 970 | 482 | 8 | 5 | 16 |
| 2.2 | 985 | 485 | 8 | 5 | 16 |
| 2.3 | 1000 | 488 | 8 | 5 | 16 |
| 3 | 1080 | 508 | 8 | 5 | 16 |
| 3.1 | 1095 | 511 | 8 | 5 | 16 |
| 3.2 | 1110 | 514 | 8 | 5 | 16 |
| 3.3 | 1125 | 517 | 8 | 5 | 16 |
| 4 | 1205 | 537 | 9 | 5 | 16 |
| 4.1 | 1220 | 540 | 9 | 5 | 16 |
| 4.2 | 1235 | 543 | 9 | 5 | 16 |
| 4.3 | 1250 | 546 | 9 | 5 | 16 |
| 4.4 | 1265 | 549 | 9 | 5 | 16 |
| 5 | 1345 | 569 | 9 | 6 | 18 |
| 5.1 | 1360 | 572 | 9 | 6 | 18 |
| 5.2 | 1375 | 575 | 9 | 6 | 18 |
| 5.3 | 1390 | 578 | 9 | 6 | 18 |
| 5.4 | 1405 | 581 | 9 | 6 | 18 |
| 6 | 1505 | 606 | 9 | 6 | 18 |
| 6.1 | 1520 | 609 | 9 | 6 | 18 |
| 6.2 | 1535 | 612 | 9 | 6 | 18 |
| 6.3 | 1550 | 615 | 9 | 6 | 18 |
| 6.4 | 1565 | 618 | 9 | 6 | 18 |
| 6.5 | 1580 | 621 | 9 | 6 | 18 |
| 7 | 1680 | 646 | 9 | 6 | 18 |
| 7.1 | 1695 | 649 | 9 | 6 | 18 |
| 7.2 | 1710 | 652 | 9 | 6 | 18 |
| 7.3 | 1725 | 655 | 9 | 6 | 18 |
| 7.4 | 1740 | 658 | 9 | 6 | 18 |
| 7.5 | 1755 | 661 | 9 | 6 | 18 |
| 8 | 1855 | 686 | 10 | 6 | 18 |
| 8.1 | 1870 | 689 | 10 | 6 | 18 |
| 8.2 | 1885 | 692 | 10 | 6 | 18 |
| 8.3 | 1900 | 695 | 10 | 6 | 18 |
| 8.4 | 1915 | 698 | 10 | 6 | 18 |
| 8.5 | 1930 | 701 | 10 | 6 | 18 |
| 9 | 2050 | 731 | 10 | 7 | 19.6 |
| 9.1 | 2065 | 734 | 10 | 7 | 19.6 |
| 9.2 | 2080 | 737 | 10 | 7 | 19.6 |
| 9.3 | 2095 | 740 | 10 | 7 | 19.6 |
| 9.4 | 2110 | 743 | 10 | 7 | 19.6 |
| 9.5 | 2125 | 746 | 10 | 7 | 19.6 |
| 10 | 2245 | 776 | 10 | 7 | 19.6 |
| 10.1 | 2260 | 779 | 10 | 7 | 19.6 |
| 10.2 | 2275 | 782 | 10 | 7 | 19.6 |
| 10.3 | 2290 | 785 | 10 | 7 | 19.6 |
| 10.4 | 2305 | 788 | 10 | 7 | 19.6 |
| 10.5 | 2320 | 791 | 10 | 7 | 19.6 |
| 10.6 | 2335 | 794 | 10 | 7 | 19.6 |
| 11 | 2455 | 824 | 10 | 7 | 19.6 |
| 11.1 | 2470 | 827 | 10 | 7 | 19.6 |
| 11.2 | 2485 | 830 | 10 | 7 | 19.6 |
| 11.3 | 2500 | 833 | 10 | 7 | 19.6 |
| 11.4 | 2515 | 836 | 10 | 7 | 19.6 |
| 11.5 | 2530 | 839 | 10 | 7 | 19.6 |
| 11.6 | 2545 | 842 | 10 | 7 | 19.6 |