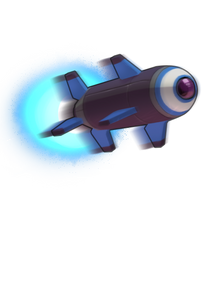 "First hit is first to go!"
---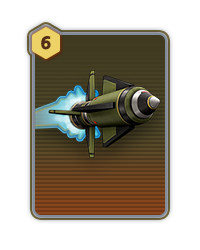 The Cruise Missile is a single-target missile that can cause great damage to a building that it first hit. It is the only weapon that is not damaged by any defense buildings.
It is a great weapon to clear the path densely populated with enemy defenses, but you also need a bit of luck since it will only deals damage to the first building it strikes.
| Battle Point | Cooldown Time | Parts |
| --- | --- | --- |
| 6 | 30sec. | Epic Booster |
Level
Health

Damage

Speed

Damage

Range

1
Infinite
1800
20
4
1.1
Infinite
1820
20
4
1.2
Infinite
1840
20
4
1.3
Infinite
1860
20
4
1.4
Infinite
1880
20
4
2
Infinite
2000
20
4
2.1
Infinite
2020
20
4
2.2
Infinite
2040
20
4
2.3
Infinite
2060
20
4
2.4
Infinite
2080
20
4
3
Infinite
2220
20
5
3.1
Infinite
2240
20
5
3.2
Infinite
2260
20
5
3.3
Infinite
2280
20
5
3.4
Infinite
2300
20
5
4
Infinite
2440
20
5
4.1
Infinite
2460
20
5
4.2
Infinite
2480
20
5
4.3
Infinite
2500
20
5
4.4
Infinite
2520
20
5
5
Infinite
2680
20
5
5.1
Infinite
2700
20
5
5.2
Infinite
2720
20
5
5.3
Infinite
2740
20
5
5.4
Infinite
2760
20
5
5.5
Infinite
2780
20
5
6
Infinite
2940
20
5
6.1
Infinite
2960
20
5
6.2
Infinite
2980
20
5
6.3
Infinite
3000
20
5
6.4
Infinite
3020
20
6
6.5
Infinite
3040
20
6
7
Infinite
3240
20
6
7.1
Infinite
3260
20
6
7.2
Infinite
3280
20
6
7.3
Infinite
3300
20
6
7.4
Infinite
3320
20
6
7.5
Infinite
3340
20
6
8
Infinite
3540
20
6
8.1
Infinite
3560
20
6
8.2
Infinite
3580
20
6
8.3
Infinite
3600
20
6
8.4
Infinite
3620
20
6
8.5
Infinite
3640
20
6
9
Infinite
3840
20
6
9.1
Infinite
3860
20
6
9.2
Infinite
3880
20
6
9.3
Infinite
3900
20
6
9.4
Infinite
3920
20
6
9.5
Infinite
3940
20
6