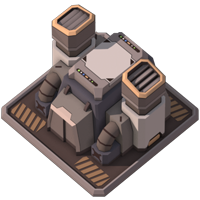 "Produces GAS used to start battles. No more environmental contamination!"
---
Gas Refinery continuously produces Gas until it reaches its storage capacity. Therefore, you have to periodically collect the produce gas.
Gas Refinery produces 60 Gas per hour.
All players can store up to 240 Gas
If you do not collect Gas from the Gas Refinery in time, the refinery temporarily stores up to 180 Gas.
Destroying an enemy Gas Refinery does not get you any Gas during battle. Instead, you will get an extra Battle Time of 3 seconds.
The amount of Gas required for a battle increases for a higher level Headquarters.
The amount of Gas required for each Headquarters level
HQ level

Gas Required

Multiplayer
Campaign mode
1
20
20
2
20
20
3
20
20
4
22
22
5
22
22
6
24
24
7
24
24
8
26
26
9
26
26
10
28
28
11
28
28
12
30
30
13
30
30
14
32
32
15
32
32
16
34
34
17
34
34
18
34
34
19
34
34
20
34
34