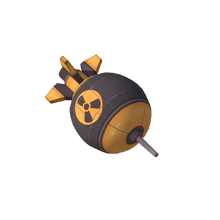 "Oooooh this one is BIG!"
---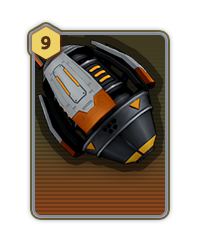 The Giant Missile is a single-target missile with the most devastating damage with a wide attack range. Since its attack range is wide, it can be regarded as a multi-target missile.
It is weak against high-level defenses due to its weak health.
You must use it wisely since it requires a lot of BP and a long cooldown.
| Battle Point | Cooldown Time | Parts |
| --- | --- | --- |
| 9 | 45sec. | Epic Booster |
Level
Health

Damage

Speed

Missiles

Damage

Range

1
10
3000
15
1
7
1.1
10
3060
15
1
7
1.2
10
3120
15
1
7
1.3
10
3180
15
1
7
1.4
10
3240
15
1
7
1.5
10
3300
15
1
7
2
13
3700
15
1
8
2.1
13
3760
15
1
8
2.2
13
3820
15
1
8
2.3
13
3880
15
1
8
2.4
13
3940
15
1
8
2.5
13
4000
15
1
8
3
16
4450
15
1
8
3.1
16
4510
15
1
8
3.2
16
4570
15
1
8
3.3
16
4630
15
1
8
3.4
16
4690
15
1
8
3.5
16
4750
15
1
8
3.6
16
4810
15
1
8
4
22
5260
15
1
9
4.1
22
5320
15
1
9
4.2
22
5380
15
1
9
4.3
22
5440
15
1
9
4.4
22
5500
15
1
9
4.5
22
5560
15
1
9
4.6
22
5620
15
1
9
5
28
6070
15
1
9
5.1
28
6130
15
1
9
5.2
28
6190
15
1
9
5.3
28
6250
15
1
9
5.4
28
6310
15
1
9
5.5
28
6370
15
1
9
5.6
28
6430
15
1
9
5.7
28
6490
15
1
9
6
34
6990
15
1
10
6.1
34
7050
15
1
10
6.2
34
7110
15
1
10
6.3
34
7170
15
1
10
6.4
34
7230
15
1
10
6.5
34
7290
15
1
10
6.6
34
7350
15
1
10
6.7
34
7410
15
1
10
7
40
7910
15
1
10
7.1
40
7970
15
1
10
7.2
40
8030
15
1
10
7.3
40
8090
15
1
10
7.4
40
8150
15
1
10
7.5
40
8210
15
1
10
7.6
40
8270
15
1
10
7.7
40
8330
15
1
10