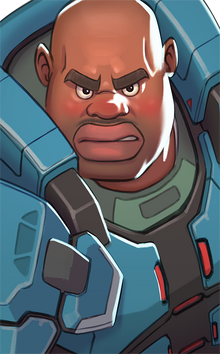 "Heavy Hammer, heavy armor"
---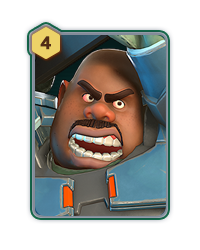 Hammer is a single target attacker with a great amount of health that can tank decent amount of attacks from defense buildings.
It taunts attacks from single-target defense buildings, thereby it well supports other ground units and rocket missiles. 
They can go through minefields without receiving much damage.
Unlike Rifleman, the number of units does not increase for a higher level. They are always deployed as a group of three.
| Battle Point | Cooldown Time | Parts |
| --- | --- | --- |
| 4 | 50sec. | Common Kit |
| Level | Health | Damage | Speed | Attack Range | Attack Speed | Troops | Dropship health |
| --- | --- | --- | --- | --- | --- | --- | --- |
| 1 | 800 | 12 | 3.5 | 1.5 | 2.5 | 3 | 120 |
| 1.1 | 810 | 12 | 3.5 | 1.5 | 2.5 | 3 | 122 |
| 1.2 | 820 | 12 | 3.5 | 1.5 | 2.5 | 3 | 123 |
| 2 | 850 | 14 | 3.5 | 1.5 | 2.5 | 3 | 128 |
| 2.1 | 860 | 14 | 3.5 | 1.5 | 2.5 | 3 | 129 |
| 2.2 | 870 | 14 | 3.5 | 1.5 | 2.5 | 3 | 131 |
| 3 | 900 | 16 | 3.5 | 1.5 | 2.5 | 3 | 135 |
| 3.1 | 910 | 16 | 3.5 | 1.5 | 2.5 | 3 | 137 |
| 3.2 | 920 | 16 | 3.5 | 1.5 | 2.5 | 3 | 138 |
| 3.3 | 930 | 16 | 3.5 | 1.5 | 2.5 | 3 | 140 |
| 4 | 975 | 19 | 3.5 | 1.5 | 2.5 | 3 | 146 |
| 4.1 | 985 | 19 | 3.5 | 1.5 | 2.5 | 3 | 148 |
| 4.2 | 995 | 19 | 3.5 | 1.5 | 2.5 | 3 | 149 |
| 4.3 | 1005 | 19 | 3.5 | 1.5 | 2.5 | 3 | 151 |
| 5 | 1050 | 22 | 3.5 | 1.5 | 2.5 | 3 | 158 |
| 5.1 | 1060 | 22 | 3.5 | 1.5 | 2.5 | 3 | 159 |
| 5.2 | 1070 | 22 | 3.5 | 1.5 | 2.5 | 3 | 161 |
| 5.3 | 1080 | 22 | 3.5 | 1.5 | 2.5 | 3 | 162 |
| 6 | 1140 | 27 | 3.5 | 1.5 | 2.5 | 3 | 171 |
| 6.1 | 1150 | 27 | 3.5 | 1.5 | 2.5 | 3 | 173 |
| 6.2 | 1160 | 27 | 3.5 | 1.5 | 2.5 | 3 | 174 |
| 6.3 | 1170 | 27 | 3.5 | 1.5 | 2.5 | 3 | 176 |
| 7 | 1230 | 32 | 3.5 | 1.5 | 2.5 | 3 | 185 |
| 7.1 | 1240 | 32 | 3.5 | 1.5 | 2.5 | 3 | 186 |
| 7.2 | 1250 | 32 | 3.5 | 1.5 | 2.5 | 3 | 188 |
| 7.3 | 1260 | 32 | 3.5 | 1.5 | 2.5 | 3 | 189 |
| 7.4 | 1270 | 32 | 3.5 | 1.5 | 2.5 | 3 | 191 |
| 8 | 1330 | 37 | 3.5 | 1.5 | 2.5 | 3 | 200 |
| 8.1 | 1340 | 37 | 3.5 | 1.5 | 2.5 | 3 | 201 |
| 8.2 | 1350 | 37 | 3.5 | 1.5 | 2.5 | 3 | 203 |
| 8.3 | 1360 | 37 | 3.5 | 1.5 | 2.5 | 3 | 204 |
| 8.4 | 1370 | 37 | 3.5 | 1.5 | 2.5 | 3 | 206 |
| 9 | 1430 | 42 | 3.5 | 1.5 | 2.5 | 3 | 215 |
| 9.1 | 1440 | 42 | 3.5 | 1.5 | 2.5 | 3 | 216 |
| 9.2 | 1450 | 42 | 3.5 | 1.5 | 2.5 | 3 | 218 |
| 9.3 | 1460 | 42 | 3.5 | 1.5 | 2.5 | 3 | 219 |
| 9.4 | 1470 | 42 | 3.5 | 1.5 | 2.5 | 3 | 221 |
| 10 | 1530 | 47 | 3.5 | 1.5 | 2.5 | 3 | 230 |
| 10.1 | 1540 | 47 | 3.5 | 1.5 | 2.5 | 3 | 231 |
| 10.2 | 1550 | 47 | 3.5 | 1.5 | 2.5 | 3 | 233 |
| 10.3 | 1560 | 47 | 3.5 | 1.5 | 2.5 | 3 | 234 |
| 10.4 | 1570 | 47 | 3.5 | 1.5 | 2.5 | 3 | 236 |
| 10.5 | 1580 | 47 | 3.5 | 1.5 | 2.5 | 3 | 237 |
| 11 | 1640 | 52 | 3.5 | 1.5 | 2.5 | 3 | 246 |
| 11.1 | 1650 | 52 | 3.5 | 1.5 | 2.5 | 3 | 248 |
| 11.2 | 1660 | 52 | 3.5 | 1.5 | 2.5 | 3 | 249 |
| 11.3 | 1670 | 52 | 3.5 | 1.5 | 2.5 | 3 | 251 |
| 11.4 | 1680 | 52 | 3.5 | 1.5 | 2.5 | 3 | 252 |
| 11.5 | 1690 | 52 | 3.5 | 1.5 | 2.5 | 3 | 254 |
| 12 | 1770 | 59 | 3.5 | 1.5 | 2.5 | 3 | 266 |
| 12.1 | 1780 | 59 | 3.5 | 1.5 | 2.5 | 3 | 267 |
| 12.2 | 1790 | 59 | 3.5 | 1.5 | 2.5 | 3 | 269 |
| 12.3 | 1800 | 59 | 3.5 | 1.5 | 2.5 | 3 | 270 |
| 12.4 | 1810 | 59 | 3.5 | 1.5 | 2.5 | 3 | 272 |
| 12.5 | 1820 | 59 | 3.5 | 1.5 | 2.5 | 3 | 273 |
| 13 | 1900 | 66 | 3.5 | 1.5 | 2.5 | 3 | 285 |
| 13.1 | 1910 | 66 | 3.5 | 1.5 | 2.5 | 3 | 287 |
| 13.2 | 1920 | 66 | 3.5 | 1.5 | 2.5 | 3 | 288 |
| 13.3 | 1930 | 66 | 3.5 | 1.5 | 2.5 | 3 | 290 |
| 13.4 | 1940 | 66 | 3.5 | 1.5 | 2.5 | 3 | 291 |
| 13.5 | 1950 | 66 | 3.5 | 1.5 | 2.5 | 3 | 293 |
| 13.6 | 1960 | 66 | 3.5 | 1.5 | 2.5 | 3 | 294 |
| 14 | 2040 | 73 | 3.5 | 1.5 | 2.5 | 3 | 306 |
| 14.1 | 2050 | 73 | 3.5 | 1.5 | 2.5 | 3 | 308 |
| 14.2 | 2060 | 73 | 3.5 | 1.5 | 2.5 | 3 | 309 |
| 14.3 | 2070 | 73 | 3.5 | 1.5 | 2.5 | 3 | 311 |
| 14.4 | 2080 | 73 | 3.5 | 1.5 | 2.5 | 3 | 312 |
| 14.5 | 2090 | 73 | 3.5 | 1.5 | 2.5 | 3 | 314 |
| 14.6 | 2100 | 73 | 3.5 | 1.5 | 2.5 | 3 | 315 |
| 15 | 2180 | 80 | 3.5 | 1.5 | 2.5 | 3 | 327 |
| 15.1 | 2190 | 80 | 3.5 | 1.5 | 2.5 | 3 | 329 |
| 15.2 | 2200 | 80 | 3.5 | 1.5 | 2.5 | 3 | 330 |
| 15.3 | 2210 | 80 | 3.5 | 1.5 | 2.5 | 3 | 332 |
| 15.4 | 2220 | 80 | 3.5 | 1.5 | 2.5 | 3 | 333 |
| 15.5 | 2230 | 80 | 3.5 | 1.5 | 2.5 | 3 | 335 |
| 15.6 | 2240 | 80 | 3.5 | 1.5 | 2.5 | 3 | 336 |
| 16 | 2320 | 87 | 3.5 | 1.5 | 2.5 | 3 | 348 |
| 16.1 | 2330 | 87 | 3.5 | 1.5 | 2.5 | 3 | 350 |
| 16.2 | 2340 | 87 | 3.5 | 1.5 | 2.5 | 3 | 351 |
| 16.3 | 2350 | 87 | 3.5 | 1.5 | 2.5 | 3 | 353 |
| 16.4 | 2360 | 87 | 3.5 | 1.5 | 2.5 | 3 | 354 |
| 16.5 | 2370 | 87 | 3.5 | 1.5 | 2.5 | 3 | 356 |
| 16.6 | 2380 | 87 | 3.5 | 1.5 | 2.5 | 3 | 357 |
| 17 | 2460 | 94 | 3.5 | 1.5 | 2.5 | 3 | 369 |
| 17.1 | 2470 | 94 | 3.5 | 1.5 | 2.5 | 3 | 371 |
| 17.2 | 2480 | 94 | 3.5 | 1.5 | 2.5 | 3 | 372 |
| 17.3 | 2490 | 94 | 3.5 | 1.5 | 2.5 | 3 | 374 |
| 17.4 | 2500 | 94 | 3.5 | 1.5 | 2.5 | 3 | 375 |
| 17.5 | 2510 | 94 | 3.5 | 1.5 | 2.5 | 3 | 377 |
| 17.6 | 2520 | 94 | 3.5 | 1.5 | 2.5 | 3 | 378 |