Jurassic World: Dominion Dominates Fandom Wikis - The Loop
Play Sound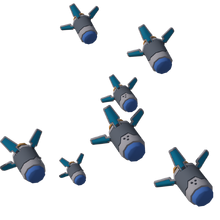 "Can't miss with these guys!"
---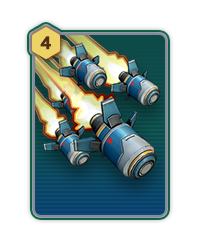 The Multi-Rocket is multi-target missiles that inflict damage over a relatively wider area with many missiles shot all at the same time. Five missiles are launched towards the target area.
It's hard to block them all at once unless the defender has defense buildings that can neutralize up to five missiles at once.
The location of missile drop is random, so it is not a good option to attack against deliberate attack.
| Battle Point | Cooldown Time | Parts |
| --- | --- | --- |
| 4 | 10sec. | Common Booster |
Level
Health

Damage

Speed

Missiles

Damage

Range

1
1
200
27
10
1
1.1
1
201
27
10
1
2
3
203
27
10
1
2.1
3
204
27
10
1
3
5
206
27
10
1
3.1
5
207
27
11
1
3
5
208
27
11
1
3.1
8
211
28
11
1
3.2
8
212
28
11
1
3.3
8
213
28
11
1
5
11
216
28
12
1
5.1
11
217
28
12
1
5.2
11
218
28
12
1
5.3
11
219
28
12
1
6
14
223
29
12
1
6.1
14
224
29
12
1
6.2
14
225
29
12
1
6.3
14
226
29
12
1
7
17
230
29
12
1
7.1
17
231
29
12
1
7.2
17
232
29
13
1
7.3
17
233
29
13
1
7.4
17
234
29
13
1
8
20
238
30
13
1
8.1
20
239
30
13
1
8.2
20
240
30
13
1
8.3
20
241
30
13
1
8.4
20
242
30
13
1
9
23
246
30
13
1
9.1
23
247
30
13
1
9.2
23
248
30
13
1
9.3
23
249
30
13
1
9.4
23
250
30
13
1
9.5
23
251
30
13
1
10
26
255
31
13
1
10.1
26
256
31
13
1
10.2
26
257
31
13
1
10.3
26
258
31
13
1
10.4
26
259
31
13
1
10.5
26
260
31
13
1
11
29
264
32
14
1
11.1
29
265
32
14
1
11.2
29
266
32
14
1
11.3
29
267
32
14
1
11.4
29
268
32
14
1
11.5
29
269
32
14
1
12
32
274
33
14
1
12.1
32
275
33
14
1
12.2
32
276
33
14
1
12.3
32
277
33
14
1
12.4
32
278
33
14
1
12.5
32
279
33
14
1
13
35
284
34
14
1
13.1
35
285
34
14
1
13.2
35
286
34
14
1
13.3
35
287
34
14
1
13.4
35
288
34
14
1
13.5
35
289
34
14
1
14
38
294
35
14
1
14.1
38
295
35
14
1
14.2
38
296
35
14
1
14.3
38
297
35
14
1
14.4
38
298
35
14
1
14.5
38
299
35
14
1
14.6
38
300
35
14
1
15
41
305
36
14
1
15.1
41
306
36
14
1
15.2
41
307
36
14
1
15.3
41
308
36
14
1
15.4
41
309
36
14
1
15.5
41
310
36
15
1
15.6
41
311
36
15
1
16
44
316
37
15
1
16.1
44
317
37
15
1
16.2
44
318
37
15
1
16.3
44
319
37
15
1
16.4
44
320
37
15
1
16.5
44
321
37
15
1
16.6
44
322
37
15
1
17
47
327
38
15
1
17.1
47
328
38
15
1
17.2
47
329
38
15
1
17.3
47
330
38
15
1
17.4
47
331
38
15
1
17.5
47
332
38
15
1
17.6
47
333
38
15
1
18
50
338
39
15
1
18.1
50
339
39
15
1
18.2
50
340
39
15
1
18.3
50
341
39
15
1
18.4
50
342
39
15
1
18.5
50
343
39
15
1
18.6
50
344
39
15
1
19
53
349
40
15
1
19.1
53
350
40
15
1
19.2
53
351
40
15
1
19.3
53
352
40
15
1
19.4
53
353
40
15
1
19.5
53
354
40
15
1
19.6
53
355
40
15
1