Jurassic World: Dominion Dominates Fandom Wikis - The Loop
Play Sound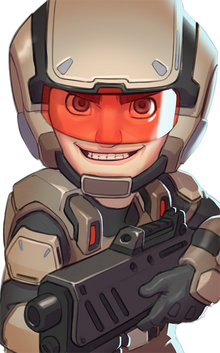 "Hard-trained commandos!"
---
The Riflemen are a single-target troop with a well-balanced Attack Damage and Health.
This is the very first unit you will encounter with in Mad Rocket and you can use it until the latter half of the game since it requires little BP and has a short cooldown.
4 riflemen are deployed at once, but as his level goes up, the number of deployed soldiers increases by one at each designated level.
The Health and Movement Speed of the Dropship onboard with Rifleman increase as the Riflemen level goes up.
| Battle Point | Cooldown Time | Parts |
| --- | --- | --- |
| 4 | 35sec. | Common Kit |
Level
Health

Damage

Speed

Attack Range

Attack Speed

Troops

Dropship

health

1
80
20
3
3
1.5
4
26
1.1
81
20
3
3
1.5
4
26
2
85
22
3
3
1.5
4
27
3
89
24
3
3
1.5
4
28
4
94
26
3
3
1.5
4
29
4.1
95
26
3
3
1.5
4
30
4.2
96
26
3
3
1.5
4
30
5
101
28
3
3
1.5
5
31
5.1
102
28
3
3
1.5
5
32
5.2
103
28
3
3
1.5
5
32
6
110
30
3
3
1.5
5
33
6.1
111
30
3
3
1.5
5
34
6.2
112
30
3
3
1.5
5
34
6.3
113
30
3
3
1.5
5
34
7
120
32
3
3
1.5
5
36
7.1
121
32
3
3
1.5
5
36
7.2
122
32
3
3
1.5
5
36
7.3
123
32
3
3
1.5
5
37
8
130
34
3
3
1.5
5
38
8.1
131
34
3
3
1.5
5
38
8.2
132
34
3
3
1.5
5
39
8.3
133
34
3
3
1.5
5
39
8.4
134
34
3
3
1.5
5
39
9
141
36
3
3
1.5
5
41
9.1
142
36
3
3
1.5
5
41
9.2
143
36
3
3
1.5
5
41
9.3
144
36
3
3
1.5
5
42
9.4
145
36
3
3
1.5
5
42
10
152
38
3
3
1.5
5
44
10.1
153
38
3
3
1.5
5
44
10.2
154
38
3
3
1.5
5
44
10.3
155
38
3
3
1.5
5
44
10.4
156
38
3
3
1.5
5
45
10.5
157
38
3
3
1.5
5
45
11
164
40
3
3
1.5
6
47
11.1
165
40
3
3
1.5
6
47
11.2
166
40
3
3
1.5
6
47
11.3
167
40
3
3
1.5
6
47
11.4
168
40
3
3
1.5
6
48
11.5
169
40
3
3
1.5
6
48
12
181
42
3
3
1.5
6
50
12.1
182
42
3
3
1.5
6
50
12.2
183
42
3
3
1.5
6
50
12.3
184
42
3
3
1.5
6
51
12.4
185
42
3
3
1.5
6
51
12.5
186
42
3
3
1.5
6
51
13
198
44
3
3
1.5
6
53
13.1
199
44
3
3
1.5
6
53
13.2
200
44
3
3
1.5
6
54
13.3
201
44
3
3
1.5
6
54
13.4
202
44
3
3
1.5
6
54
13.5
203
44
3
3
1.5
6
55
14
215
46
3
3
1.5
6
56
14.1
216
46
3
3
1.5
6
57
14.2
217
46
3
3
1.5
6
57
14.3
218
46
3
3
1.5
6
57
14.4
219
46
3
3
1.5
6
58
14.5
220
46
3
3
1.5
6
58
15
232
48
3
3
1.5
6
60
15.1
233
48
3
3
1.5
6
60
15.2
234
48
3
3
1.5
6
60
15.3
235
48
3
3
1.5
6
61
15.4
236
48
3
3
1.5
6
61
15.5
237
48
3
3
1.5
6
61
15
238
48
3
3
1.5
6
62
15.1
250
50
3
3
1.5
6
63
15.2
251
50
3
3
1.5
6
64
15.3
252
50
3
3
1.5
6
64
15.4
253
50
3
3
1.5
6
64
15.5
254
50
3
3
1.5
6
65
15.6
255
50
3
3
1.5
6
65
15.7
256
50
3
3
1.5
6
65
17
268
52
3
3
1.5
6
67
17.1
269
52
3
3
1.5
6
67
17.2
270
52
3
3
1.5
6
68
17.3
271
52
3
3
1.5
6
68
17.4
272
52
3
3
1.5
6
68
17.5
273
52
3
3
1.5
6
68
17.6
274
52
3
3
1.5
6
69
18
286
54
3
3
1.5
6
71
18.1
287
54
3
3
1.5
6
71
18.2
288
54
3
3
1.5
6
71
18.3
289
54
3
3
1.5
6
71
18.4
290
54
3
3
1.5
6
72
18.5
291
54
3
3
1.5
6
72
18.6
292
54
3
3
1.5
6
72
19
304
56
3
3
1.5
6
74
19.1
305
56
3
3
1.5
6
74
19.2
306
56
3
3
1.5
6
75
19.3
307
56
3
3
1.5
6
75
19.4
308
56
3
3
1.5
6
75
19.5
309
56
3
3
1.5
6
76
19.6
310
56
3
3
1.5
6
76
20
322
58
3
3
1.5
6
78
20.1
323
58
3
3
1.5
6
78
20.2
324
58
3
3
1.5
6
78
20.3
325
58
3
3
1.5
6
79
20.4
326
58
3
3
1.5
6
79
20.5
327
58
3
3
1.5
6
79
20.6
328
58
3
3
1.5
6
80